Products I regret buying
7:39 PM
Here is another post of products that didn't do much for me and I would not recommend to anyone really.
First is the Revlon Color Stay liquid Eye Pen in Blackest Black
I am always wanting to try Dolly Wink's felt tip eye liner but that would mean I would have to order online and I didn't want to do that. When I saw this at London Drugs I was sold! But now I am thinking this isn't so great.
It isn't a terrible product but I don't find it very pigmented and that is my problem. I have fair skin and even this doesn't look too dark on my skin and this is the darkest color you can get. It is easy to apply and the lasting power was pretty much a normal day but the light coloring just doesn't cut I for me.
This was pretty pricey for my likings, I did pay $10.99 so I was hoping for better quality then what I got.
The next two products I have are in the same category... Face wipes! I have been trying to test out brands that are on sale to see if there is anything I like better then my Clean & Clear ones I always use, these two weren't even comparable.
First is the Say Yes To Cucumbers, this was the travel pack for under $3 so it's not much of a loss anyways. I found these too weak for my water proof mascara and didn't fully take off my make up. This wasn't terrible but it wasn't anything much to talk about. The smell is pleasant and the towelettes seem like. They are organic or something as I did feel them breaking apart easily. I would not buy this product again.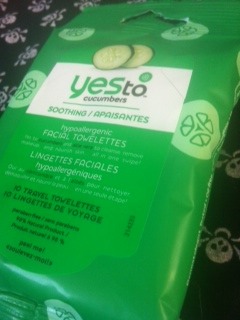 Next is the Garnier skin naturals. This has grape water and vitamin e. This vitamin enriched cloths are supposed to removed make up but they don't! After I had "removed" my eye make up I had to do it again with a real makeup removing cloth. I used two cloths and still had mascara all over my eyes. These might be ok if you do not wear makeup and just need to clean off your skin, but for makeup lovers this is not your best pick. Also felt these cloths were really dry and the package was closed do they must not have much moisture. I did blow almost $8 for this and i will never repurchase.
** I am not sure if this is a new product or just new to Canada but this kind just didn't remove make up, their other ones might be better but not this one. My Clean & Clear removes all my water proof mascara in one cloth so they are really good.
That is all that I have for now... Have you tried any of these products or had anything similar to these that you did or didn't like?
I am testing this out on my iPad so if this doesn't post as well that's why. I am using a new app to post this and it's not quite as easy as I have hoped. If you have any suggestions please let me know!